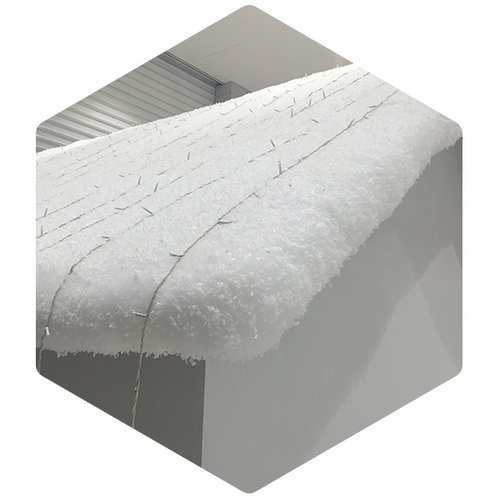 Snow Blanket
Looking for a webshop where you can buy a snow blanket? In our range you will find high-quality snow blankets that you can use as decoration or as a surface for decorative snow. With a snow decoration blanket you can turn any surface into a snow surface. This way you can create a winter landscape that you say "you" to in an instant. Do you want to buy a snow blanket? Then quickly view the range and choose a blanket of your choice!
Want to buy a soft, high-quality snow blanket?
You can buy a snow decoration blanket from us in various thicknesses and sizes. Do you pull out all the stops while decorating and do you need a whole roll? Or do you just want to add a few snow wool to the street of your Christmas village? You will find what you are looking for in our range full of decorative snow. The soft snow blankets have a high quality and serve perfectly as a surface for Christmas decorations, such as a Christmas stall, or loose decorative snow. The snow decoration blanket on a roll is fire-retardant and is available in different sizes.
A snow blanket as a winter decoration
Do you want to buy a snow blanket, but only need a small amount? In our range you will also find a small snow decoration blanket, of about 100 grams / m2 and 1 cm thick. These small snow blankets are ideal for creating snow effects under the Christmas tree or on a tray or table. Looking for wonderfully soft artificial snow? With the snow wool and snow down you can make a snow carpet in no time. Hang some snowflakes, put some snowballs down and create a cozy winter snowy landscape!
Create your own winter wonderland with artificial snow!
Want to buy a soft, snow blanket? In our webshop you will find realistic artificial snow of the highest quality. You can also spot Christmas tree snow and handy snow sprays in our range. Here you will find everything you need to turn any location into a winter wonderland! Order your winter decoration and receive your products within two working days. Do you need personal advice or do you have a question or comment? Send an email to [email protected]l or call 035-2071370. Then we will contact you as soon as possible!